I wanted to do a few product reviews of things I've really enjoyed using lately.
I have been on the hunt for a pine-smelling lotion that didn't smell like Pine-Sol. It's harder than it sounds! This one is really nice. The "leather" note, if it exists, is undetectable. I was worried it would smell too similar to men's cologne, but that's not the case at all. It just smells nice and woodsy and wintry, which is exactly what I wanted. It lasts a nice amount of time, too. Not all day, but pretty good. And it's lightly moisturizing which makes it great for daily use.
This is a great conditioner. As you might have guessed from my previous posts, I process the h*ck out of my hair, so conditioners and treatments are important. I like this one. It's not super moisturizing, but it does a nice job of making my hair feel healthier and more manageable. Plus, it smells like cotton candy but in a good way.
I had seen a lot of ads for different eyeliner stamps, but based purely on reviews I decided to try this one. Was not disappointed. These are a great hack for those of us who like the look of winged eyeliner but suck at drawing. The stamps work great for producing nice, even, symmetrical wings. The liner part is not great...it doesn't last too long and it smudges. So usually what I do is stamp on the wings, then fill them in and draw my liner with
this one by Physician's Formula
which is eternal. Overall, it's been very helpful to help me get the look I want. And for the price, I'm pleased.
I'm a little obsessed with all things Nordic (specifically, Finnish) so I was really eager to try Finland's best-selling foundation. WAS NOT DISAPPOINTED. This stuff is glorious. The consistency is thin, per usual with CC creams, but the benefits are intense. It makes my skin look flawless, and it feels really nice and light on. Plus, they have an "ultra light" color option, so it matches (usually, I have to mix the lightest shade with a white foundation to get a match...don't judge me)! Cannot recommend highly enough. I know the price is a little steep, but I will definitely repurchase this, especially when I don't want to wear a full-coverage foundation in the summer.
This was another thing that was kinda 'spensive, but I was like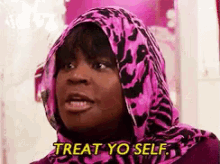 and went for it. I will let the before and after pics do the talking:
It's very easy to use, too. I like that it doesn't try to make your hair perfectly straight or perfectly curly, which works well with my hair's texture of "Idk what's going on, let's do all the things." It's also a lot cooler to use than a traditional straightener. Cooler as in temperature, as in, I don't sweat out half my body weight doing my hair using this thing. Overall, really like it.
Soft hair, clear skin, and good eyeliner. 👍🏻